We have a wealth of knowledge within Industrial Filter and Pump that can help you with all your project needs. Our sales-force has the knowledge to answer all of your questions and get your project moving. We are more than happy to answer your questions.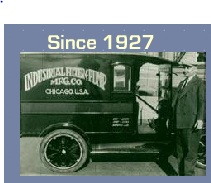 Industrial Filter & Pump is now in its 9th decade of service to American and overseas industries. We were founded in 1927 as a proprietorship, and since then have designed and manufactured thousands of filtration and pumping equipment stations for the metal finishing, food, and chemical processing industries. As a natural outgrowth of this service, techniques were developed for the formulation and application of (vulcanized) rubber coatings and linings for the highly corrosive chemicals encountered in metal finishing and chemical processing. A series of environmental testing cabinets were designed in accordance with ASTM specifications to provide accelerated corrosion conditions on metallic, painted and coated parts as a further service.
Industrial Filter & Pump was incorporated and continues as a privately owned corporation. In addition to engineering and manufacturing facilities, we have chemical and physical laboratories as part of our research and development department. Over the years, some 100 U.S. patents have been issued to INDUSTRIAL, many of which are in use today.